Videos with Will Powers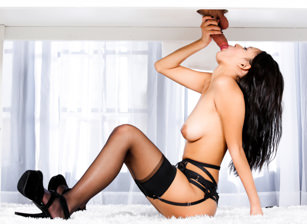 Date added:
2015-01-31
Rating:
Comments:
0
Description :
Josey Jagger is the beautiful new masseuse at Will Powers' favorite establishment, and her gorgeous, round boobs and exotic eyes have got Will all flustered. In fact, if you didn't know better, you'd think Josey was the experienced professional and it was Will's first time, instead of the other way around. He's stuttering, and his hands are trembling as Josey leads him into the massage table. But Josey knows just how to ease his mood. Once she's got him laid back on the table, her expert hands and mouth turn Will's dick from a timid garden hose into an erupting geyser! If this really was Josey's first time with a client, talk about beginner's luck!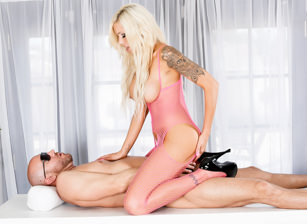 Date added:
2014-12-13
Rating:
Comments:
6
Description :
Will is blind. Nina is offering a progressive new treatment for Will's therapy today. He was recommended the spa by his doctor. He's a little nervous but he's having some trouble feeling confident with his condition. Nina's an expert and totally ready to help Will feel better. Nina starts his massage without Will knowing what's ahead. Nina is excited about her client. They say when you lose one sense, your other senses become heightened. That is certainly what Nina will try and prove to Will. When she gets under the table Will has a breakthrough with will's stiff cock deep in her throat. He makes such progress that Nina has a special treat for him. What'll it be do you think?
Categories :
Oil
,
Big Tits
,
Blonde
,
Tattoo
,
Body Massage
,
Blowjob
,
Hardcore
,
Ball Sucking
,
Ball Licking
,
Massage
,
Ball Play
,
Creampie
,
HD Porn
,
Big Dick
,
Reality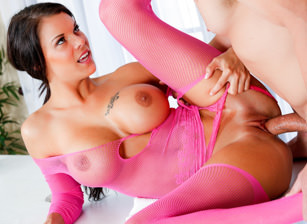 Date added:
2014-11-29
Rating:
Comments:
1
Description :
Will is back, and it's the same old problem, only this time he's regressed beyond recognition. Fortunately, Peta Jensen is a new girl at the spa, and today, Will is going to get the treatment of his life. Peta's gentle touch, and soothing voice helps Will relax, and her questions are perfect stimulation for his active mind. This is key, because we all know will has a tendency to be a bit of a talker. Peta has a cheeky way of telling will like it is. Her observations are keen, and she knows right when to kick his treatment into overdrive. By the end, it turns out Will is able to stay hard so that Peta can shove his rigid cock deep inside her hungry juicy pussy, and get fucked deep by him until he proves he's cured... this time.
Categories :
Big Tits
,
Brunette
,
Tattoo
,
Body Massage
,
Blowjob
,
Titty Fuck
,
Deepthroat
,
Cock Milking
,
Hardcore
,
Massage
,
Fishnet
,
HD Porn
,
Cum on Pussy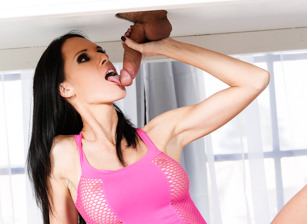 Date added:
2014-10-11
Rating:
Comments:
3
Description :
Remember the first time Will Powers was at the Milking Table? Jennifer Dark does too! She even remembers why he came to the spa in the first place. Jennifer takes her time to touch him gently, and caress him erotically, of course it's not long before Will's big cock is standing at attention, and Jennifer asks if she can go a bit harder. Will's progress is apparent, and soon Jennifer is trying new techniques to gauge how far he's come. His progress surprises her and when she crawls under the table she doesn't hold back at all! This gorgeous babe knows how to work a cock in her deep exotic throat! Will won't want to see anyone else after Jennifer is done with him.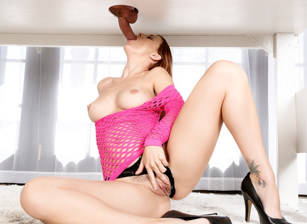 Date added:
2014-09-06
Rating:
Comments:
0
Description :
Will Powers came in today for a treatment, his last ones have gone really well, but he's still nervous! He's worried people will think he's gay, he got a boner while on hard on meds, and his buddies put some gay porn in front of him. Needless to say Karlie Montana can certainly fix his problem. She has him focus on her touch and before too long, he's standing at attention, while feeling her breasts. Karlie's beautiful eyes are so sexy to stare into while she sucks your cock, and Will is sure taking full advantage of her allure! She sucks a mean cock too! Once Karlie pulls his cock down through the glory-hole there's no chance this guy is gay. A hot cock milking session like this one is bound to cure anyone!
Categories :
Skinny
,
Tattoo
,
Handjob
,
Blowjob
,
Cock Milking
,
Ball Sucking
,
Massage
,
Fishnet
,
HD Porn
,
Open Mouth Facial
,
Pornstar
,
Redhead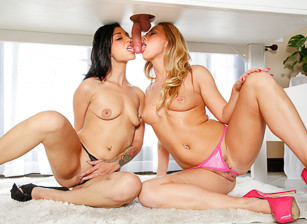 Date added:
2014-04-22
Rating:
Comments:
0
Description :
Will's wife must be the woman of his dreams because when he admits to his issue, we get the idea that he can't keep his libido in check, and he cums straight away. Suffering from premature ejaculation, leaves Him feeling depressed, and he feels less important. Especially when it comes to pleasing his wife. When he reveals he's worried that his wife will leave him, Carter takes over, reassuring him that the treatment she has planned should help to take care of everything from his insecurities to his PE. Aimee Black joins them, and Will realizes that they grew up together. Once Aimee and Carter start stripping down, Will can't help himself and he cums straight away! Their damage control helps him to relax and the massage certainly helps him to release his stress, and that subconscious feeling to rush everything. The ladies gently work his cock to the point where they can take him in their mouth, giving him the hot blowjob he came in for. Carter is first under the table, and before long Aimee joins her to work his cock over using four hands until his load is released into Aimee and Carter's hungry mouths! Will will need to cum back? These two hotties hope so!
Categories :
Blonde
,
Brunette
,
Tattoo
,
Handjob
,
Blowjob
,
Cum in Mouth
,
Deepthroat
,
Threesome
,
Cock Milking
,
Natural Tits
,
Ball Sucking
,
Fishnet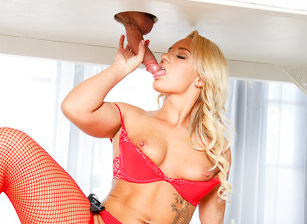 Date added:
2014-04-01
Rating:
Comments:
1
Description :
The luscious and nurturing Cali Carter meets a parlor regular, Will Powers. She strips him nude to expose his hard cock. She uses her gentle hands to comfort him, talking to him and his cock. After Cali gets Will to turn over, she uses her warm wet mouth to suck his giant cock, shooting his steaming load from her shot glass. Will will be back!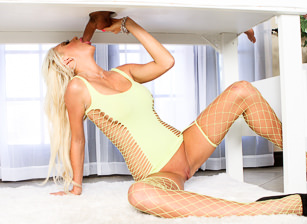 Date added:
2014-03-05
Rating:
Comments:
1
Description :
Courtney Taylor is a hot sexual therapist and isn't affraid to show it, when Will comes back for another session she shows him to the milking room and undresses him. She takes one look at his huge cock and cannot wait to play with it and suck it. Under the table she puts her lips around his dick and milks it hard which gets her really turned on. Courtney shows her perfect tits and shaven pussy and lets Will shoot his entire load in her mouth. She enjoy the taste of his cum and asks him to come back and see her for another private session.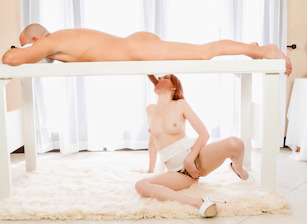 Date added:
2014-03-05
Rating:
Comments:
1
Description :
Redhead milking specialist Maria McCray is looking especially sexy and her patient Will Powers is the lucky guy. Discussing his problems brings him to the milking table. She relaxes him through some rubbing and then moves to slowly rub the head of his penis. She instantly stimulates him and he loves it. She turns him over, and then she moves to milking him through her open mouth. She deep throats his hard cock and sucks on his balls to get every bit of blood flowing through his cock. She gets him fully ready to go, and when he explodes, the milking session ends with tits covered with cum.

Pictures with Will Powers