Videos with Antonio Ross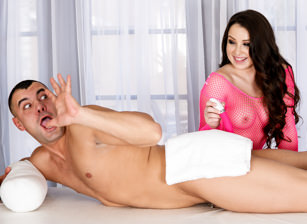 Date added:
2015-04-25
Rating:
Comments:
1
Description :
Antonio came back to see Lola at the massage parlour. He says his earlier treatment went very well. However, feels he would need a little more attention. Antonio surprised Lola with a pretty pink vibrator. Lola is thinking Antonio wants her to use it on him, but in fact, he brought it for her as a present! Antonio places himself on the table and is ready to be pampered. Lola rubs Antonio's muscular body then takes no time to place his cock into her mouth. Lola's treatment is definitely working as it takes no time for his penis to become fully erect. Under the milking table, Lola continues to please Antonio while she pushes the vibrator inside her sweet pussy. Making sure she satisfies her client's needs, she uses her two hands to stroke his dick until he blows a huge load all over her mouth and chest. Lola is eager to have Antonio come back for another treatment next week even though Antonio feels a lot better. How can he say no to such great hospitality?
Categories :
Natural Tits
,
Tattoos
,
Toys
,
Petite
,
Blowjob
,
Cum in Mouth
,
Ass
,
Handjob
,
Oil
,
ball play
,
cock milking
,
hd porn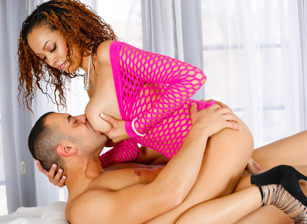 Date added:
2015-01-24
Rating:
Comments:
4
Description :
Antonio Ross has no idea what he's walked into. He thinks this is just a regular massage parlor, but as masseuse Serena Ali is trying to explain, this is a different kind of massage than he's probably used to. Just the fact that her big tits are showing through a skimpy fishnet dress should have clued him in! He's a bit put off by the price, because most massage places he's been to charge way less, but Serena just shrugs and says that if he wants a less pleasurable experience he's welcome to go elsewhere. Antonio decides that he may as well try something new, just this once. The massage starts off pretty standard, and he starts to feel like he may have gotten ripped off, but when he turns onto his stomach and sees a hole in the table, he quickly finds out what's so special about this massage parlor. Serena works her magic on Antonio's cock both over and under the table, and Antonio comes to discover that the price is well worth the service!
Categories :
Brunette
,
Big Tits
,
Hardcore
,
Interracial
,
Blowjob
,
Deepthroat
,
Handjob
,
Massage
,
Ebony
,
Fishnets
,
ball play
,
cock milking
,
hd porn

Pictures with Antonio Ross

Date added:
2015-04-25
Rating:
Comments:
0

Date added:
2015-01-24
Rating:
Comments:
0